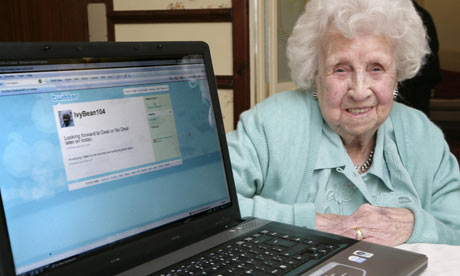 Oldies never understand the web world. I know that. I have faced hell in just teaching my parents open their mail accounts. When it is so difficult to use gmail, I don't expect them to get into a social networking site at all. Not all are like that and I have a pretty good example to prove it wrong.
Im talking about Ivy Lesly Bean. Mrs.Bean started using Facebook at the age of 102 in the year 2007. Unbelievably 2007 was the year, she accessed internet for the first time in her life. She gained huge fame across the globe for being the oldest user on Facebook. She soon got into Twitter where she gained 56,000 followers in no time. Her fame gave path to the door to meet big celebrities like Gordan Brown, ex Prime Minister of the UK and his wife Sarah, singer Peter Andre and many more.
Mrs.Bean is one of the early users to have reached the mark of 5000 friends on Facebook. She passed away at the age of 104 on 28th July, 2010. Mrs.Bean is one of the very few to have the pleasure to watch her children, grandchildren and great grand children.